︎︎︎ You can reach out to any of us about any of your ideas. We all do a little bit of everything and share notes at weekly meetings. At the same time, we take on a few focused roles and responsibilities.


Graciela Batista
(she/they)
Co-Editor-In-Chief
BFA IllUS 2024
Graciela secretly likes when cars zoom past Thayer blasting obnoxiously loud hispanic music from their windows because it takes her back home, to the hectic streets of San Juan, Puerto Rico for a few seconds. They were born in the city of Chicago, spent their childhood in Orlando and when their dad noticed the dominance of English over Spanish in their day to day speech, he decided it was time to go back home. She is fueled by a keen sense of community and devotion to interpersonal relationships that she hopes are expressed in all of her artforms. Consequently, Graciela can often be found mingling at Carr Haus or leading a group of students at a local creative learning nonprofit. With literary arts as her runner up major of choice, joining the v.1 team seemed only natural, and she is absolutely thrilled to contribute and co-lead the v.1 team this year in her loud latina voice.
Angelina Rodgers
(they/them)
Managing Editor
BFA PTG 2025
Angelina would love to dance. When they are home in Florida, among the palms and ferns, they feel a familiar buzzing under their skin. After a studio day, they're likely flammable with solvent, and often grappling with the emotional white-water-rafting that is Process. An amateur poet, they write for a quiet audience of Tumblr bots. Thinking about their relationship to land, they care about accessibility, park benches, and in-season vegetables. This year at v.1, they work to understand, to be understood, and to foster a free-flowing archive of what matters.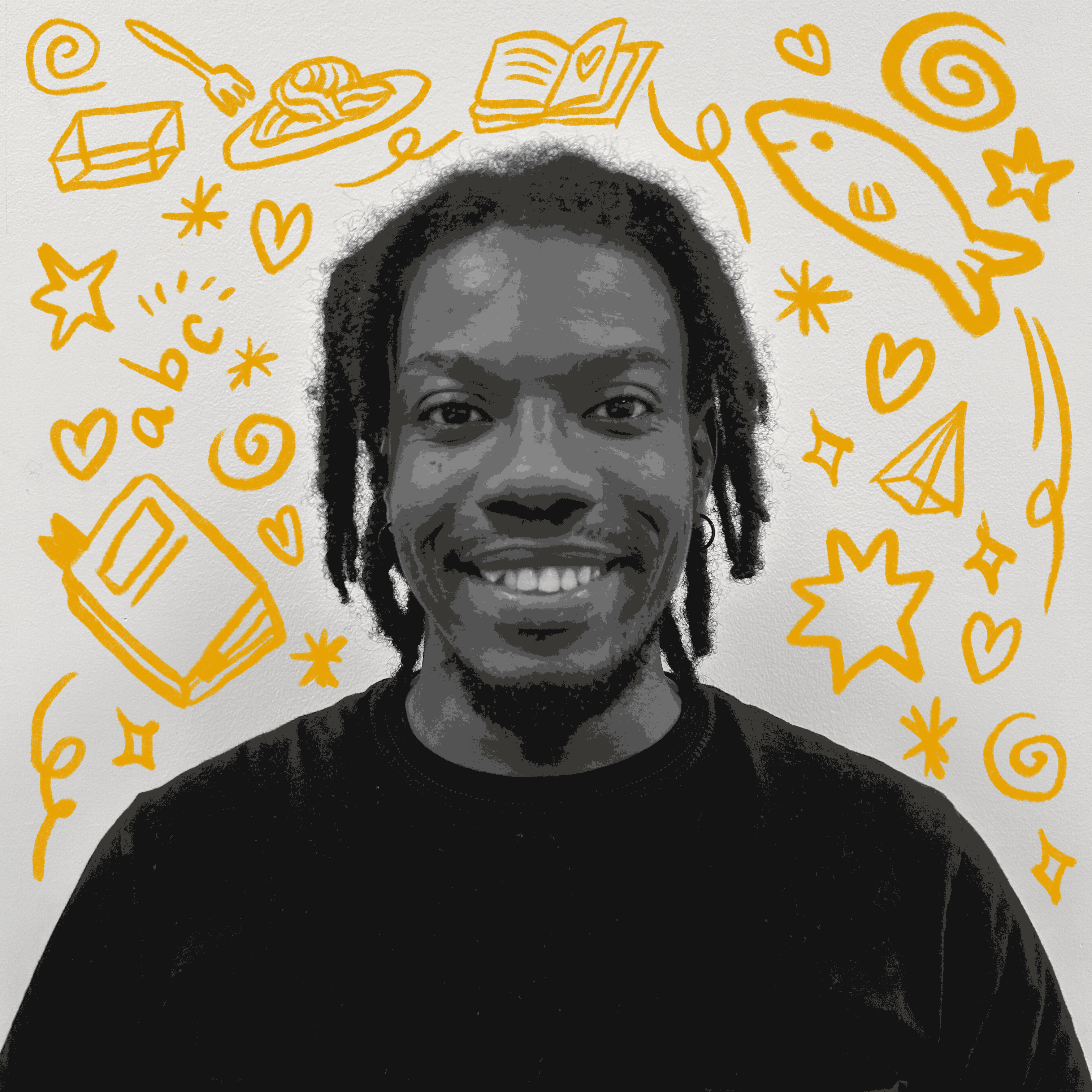 David LeGrand
(he/him)
Editor/Designer
MFA PTG 2025
David's favorite food is salmon pasta which he would eat at least twice a week, a dish he has loved since childhood, thanks to his mother's cooking. He rediscovered this beloved meal in Rome two years ago, where he ate it three times in a row. "Les Immortelles," a cherished book of his, is usually a part of his dinnertime routine, reflecting the depth of his love for literature. While exploring Francophone literature and urban aesthetics, David retains a profound interest in the nexus between language and spatial design. At RISD, David is intent on deciphering the intricate bond between the academy's artistic environment and the eclectic vibes of Providence. David takes pride in his varied collection of literature and remains a dedicated member of a book club. As he navigates this fresh phase, David feels seamlessly in tune with the pulse of RISD. He is committed to discovering the myriad narratives that weave the student community, aiming to spotlight these stories to foster a more interconnected and inspired campus.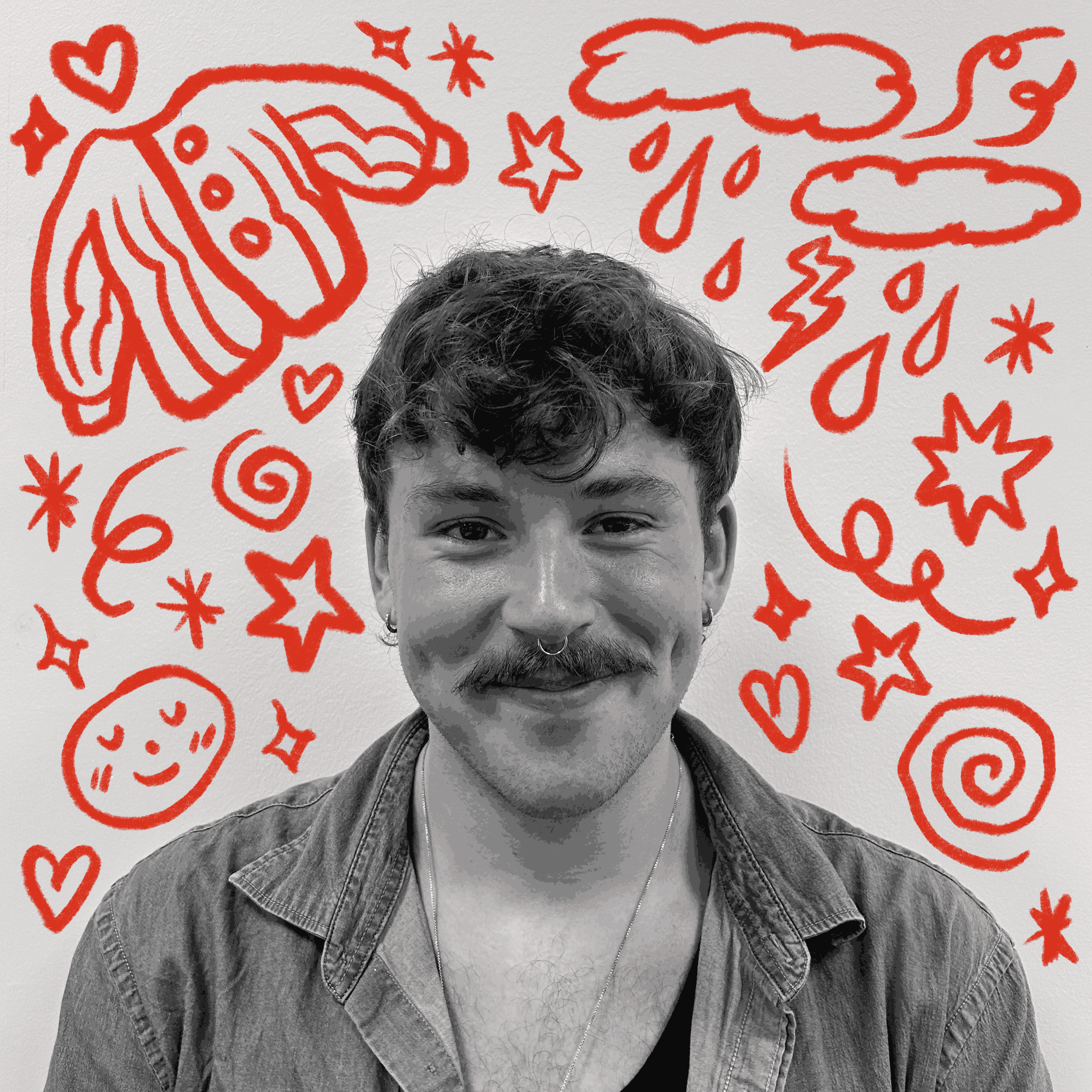 Michael Gunn
(he/they)
Editor/Event Planner
BFA PTG 2024
Michael won't stop picking up his friends when he's hugging them. It's one of many common manifestations of his 75-year-old-cardigan-grandpa persona which is fighting to escape a 21 year old work wear adorned painter. His RA, TA, and Nature lab jobs mean the world to him. He can't stop climbing trees and longing for the river towns of Appalachia, but no one is surprised as it's common to find him standing in the rain getting drenched just to feel something. If you enter his studio you'll realize he doesn't shy away from being vulnerable about his obsession with quantum theory, coming of age as a gay hobbit, and fantasizing about being photosynthetic. To bring new voices to V.1 and get impressed by the potential of his peer's writing practices feels just right for his final year at RISD.
mei zheng
(they/them)
Editor/Designer
MA TLAD 2024
Weather to mei (m-ay), represents their many states of brain, mind, and body
1
. Today's forecast predicts an early sunrise, offering the possibility of encountering them living out their Animal Crossing delusions, collecting photographs of flowers from all corners of Providence. Other times, you can spot them foraging edible herbs to adorn their whimsical cakes. Raised by two loving homecooks, mei's appreciation for food spans generations. They yearn for the taste of authentic Fujian cuisine. On a good day, they'll tell you they were born in Manhattan, which is true—it's just that they're raised in the Connecticut suburbs. Through their experiences in practice and TLAD, mei embodies the act of 'being'—being a self-aware, ever-transforming designer and educator deeply committed to community. For now, you can find (me)i resting in the Ewing Multicultural Center, where they'll invite you to unwind. With a healed heart for literary arts, they're excited to share stories, gesture ideas, and open possibilities in the interconnected worlds that make up v.1.
1. Patiently listening to The Body Keeps The Score by Bessel Van Der Kolk, M.D.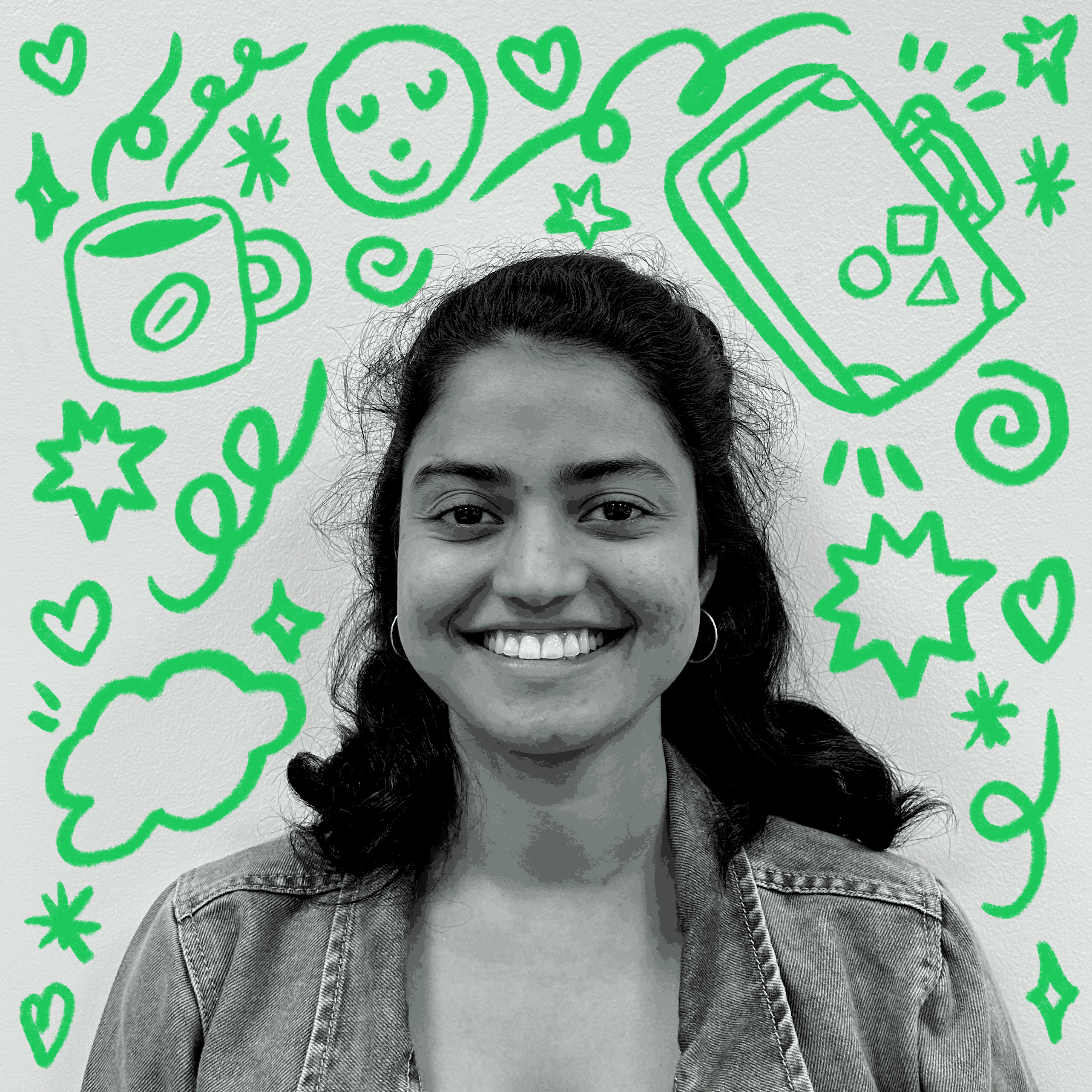 Deanne Fernandes
(she/her)
Editor/Event Planner
MFA ILLUS 2024
I'm a detective of narratives, be it on the label of a toilet cleaner, lurking on a bus advertisement, or in fineprint on a shoelace tag. My relentless search for storytelling in the everyday has transformed me into a visual storyteller, weaving tales that make the ordinary, well, extraordinary. My ears peak up at the word travel. If I were a golden retriever my tail would wag nineteen to a dozen , tripping over myself in excitement at the thought of discovering a new place. I live for the narratives thrown at me at airports, in lost luggage, through bad weather, from delicious food and most importantly surprising interactions with strangers. In the seemingly mundane, like the dance of clouds or the whiff of a well-brewed coffee, my joy does a merry dance.My academic journey led me to the liberal arts, with a focal point on sociology, where cultural narratives became the heart of my creative practice. In my pursuit to make research come alive visually, I've harnessed the power of Illustration as my chosen medium. I find solace in crafting fictional narratives and building intricate worlds to convey the most profound and challenging stories. My aspiration is to guide and inspire students at v.1, empowering them to harness the art of storytelling to tackle topics as diverse as trauma, conservation, or even the simple joys of life, such as savoring a steaming cup of masala chai alongside a plate of India's delectable specialty, dahi chaat.
Karina Garbarini
(she/they)
Co-Editor-In-Chief
BFA FAV 2024
Karina has five placements in Aquarius. She has recently learned after switching her phone language to Swedish that the Swedish word for voice memo is "ljudmeddelande" which might just be her new favorite word. If she's not on Duolingo practicing the aforementioned Swedish, you can find her stalking the Friend Activity feed on Spotify. A self proclaimed Jersey girl, she finds comfort in small things: hearing her friends laugh together, sunlight dappling through the trees, egg and cheese on a perfectly toasted sesame bagel, handmade birthday cards, the smell of clean laundry. Focusing mostly on hand-drawn animation, her work in FAV deals with memory, intimacy, and connection. As a senior, she's thrilled to return to the v.1 team this year and delve even deeper into the RISD community through writing, discussing, and sharing. She is already missing Providence and its bunnies, even though she hasn't graduated just yet.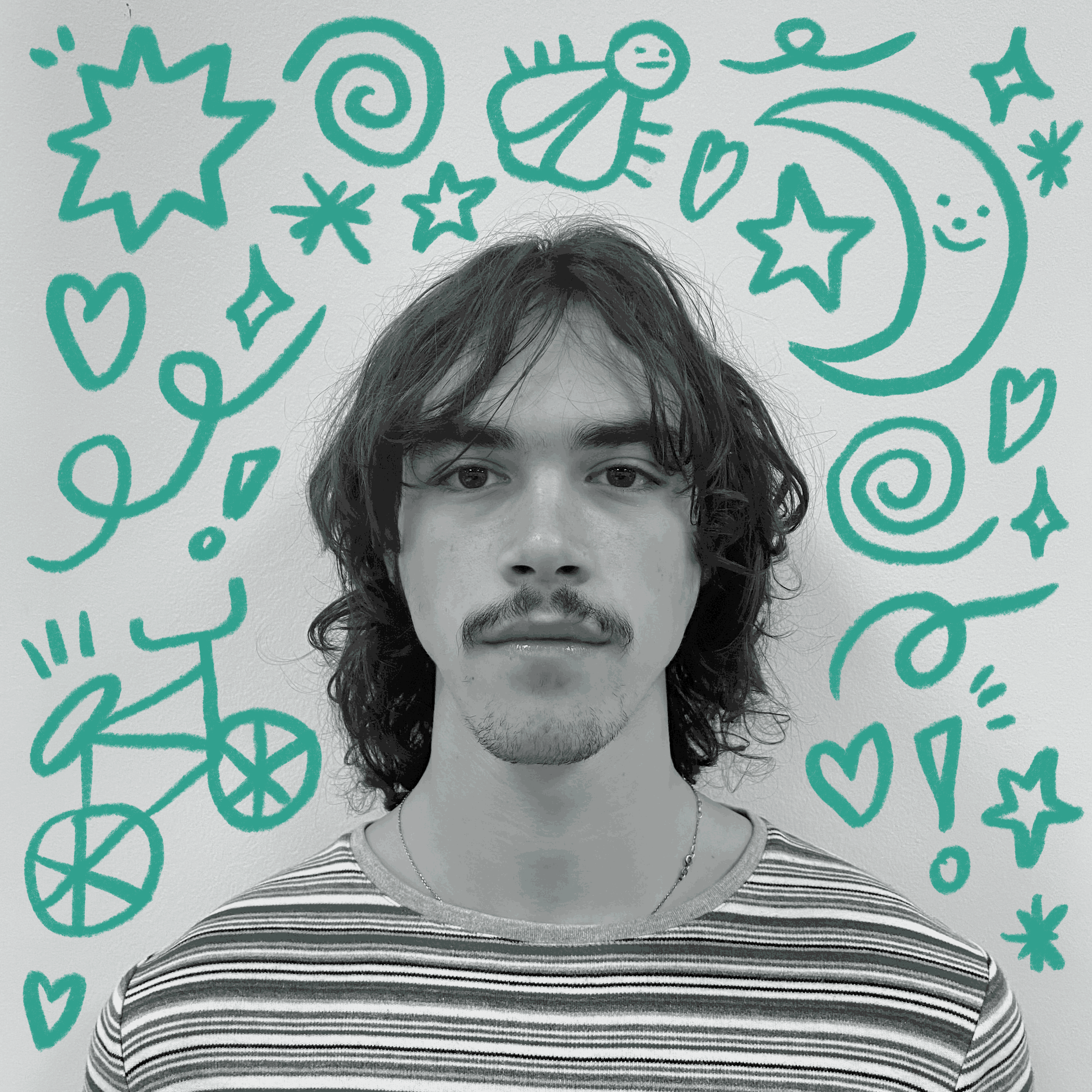 Alex Ferrandiz
(he/him)
Videographer
BFA FAV 2025
The moon is yellow sometimes and Alejandro finds comfort in that. He can respect a fly on his wall but not the hair on his toes, and the best way he can communicate is through little pictures that move sometimes. He has an obsession with the way people do things like cross the street, or how they sleep on the bus, and scavenges for moments of beauty in very mundane, repetitive motions. Don't ask him what his favorite movie is or if he has a Letterboxd please. He got his bike stolen on the second day of classes so if you see a Trek bike with a green water bottle holder it might be his. Love you. He is extremely excited to work with such an amazing group of people at v.1 and harness his love for storytelling.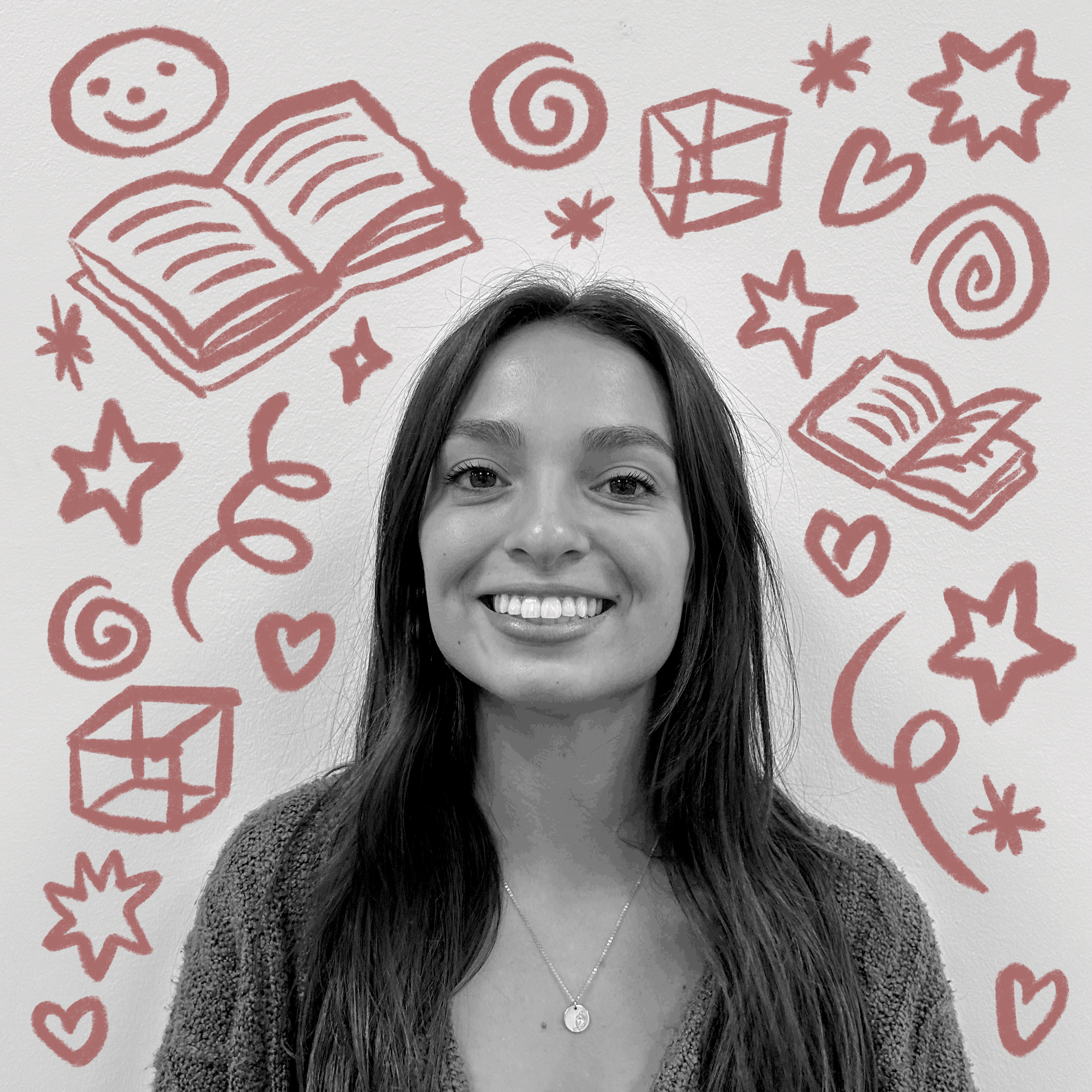 Samantha Hernández
(she/her)
Editor/Designer
MFA ARCH 2025
Samantha is from the Midwest (Missouri) and is intrinsically defined by her time growing up in its open space and fields. She is beginning her two year Master program in architecture at RISD, and is most excited to overlay her spatial understandings with cultural and linguistic codes. Though studying both Spanish and architectural studies in Fayetteville, Arkansas, she continues to search for further ties between the two subjects. She looks forward to exploring connections between the college as an entity and New England. Samantha loves shades of red and feels like Providence has a plethora of them. She does not discriminate against reading material, and religiously logs on Goodreads (find me!). She feels a snug fit in her new stage of time and is realizing that it goes so very fast. Samantha is ready to explore the many facets of RISD through writing and learn about the commonalities that unite students across the campus.
Mina Troise
(she/her)
Editor/Event Planner
BFA ILLUS 2025
Mina delights in frozen green grapes, braided pigtails, ribbons, pop-its, and of course, wild horses. It takes very little convincing to drag her to Thayer at any time of night for Chinatown takeout (yes, extra rangoons please). Her view is that if lo mein is her worst vice, she's probably doing alright. Having lived the first half of her life in rural California and the latter half in Singapore, home has become more of an idea than a place. Most of the time she likes it that way. In her illustration work, she strives to make the confounding comprehensible, and to reckon with the strangling and exquisite experience of being known. You can find her sitting on her favorite bench by the Providence River, proclaiming that the fish stench is endearing while cooing over baby geese. This year at v.1 she's excited, as always, about the beautiful terror of a first draft.
Arete Xu
(she/her)
Assistant Managing Editor
BFA SCULP 2024
Arete is a staunch believer that the name of thick-cut potatoes is chips, not fries. Although where she is from is a tricky question, she is approximately 11,350,000 sheep away from her home in Auckland, New Zealand. With this fry on her shoulder, she wants to discover, understand, and witness the symphony of ideas around her, precisely what led her to sculpture. You can find her in the studio creating meanings and conducting haphazardous material experiments. She is a self-proclaimed connoisseur of everything to do with the past: vintage stores, art history, and musty books with yellowed pages because she is fond of beauty that stands the test of time. Arete hopes for a year of endearing challenges at v.1, with community building and radical playfulness at its core.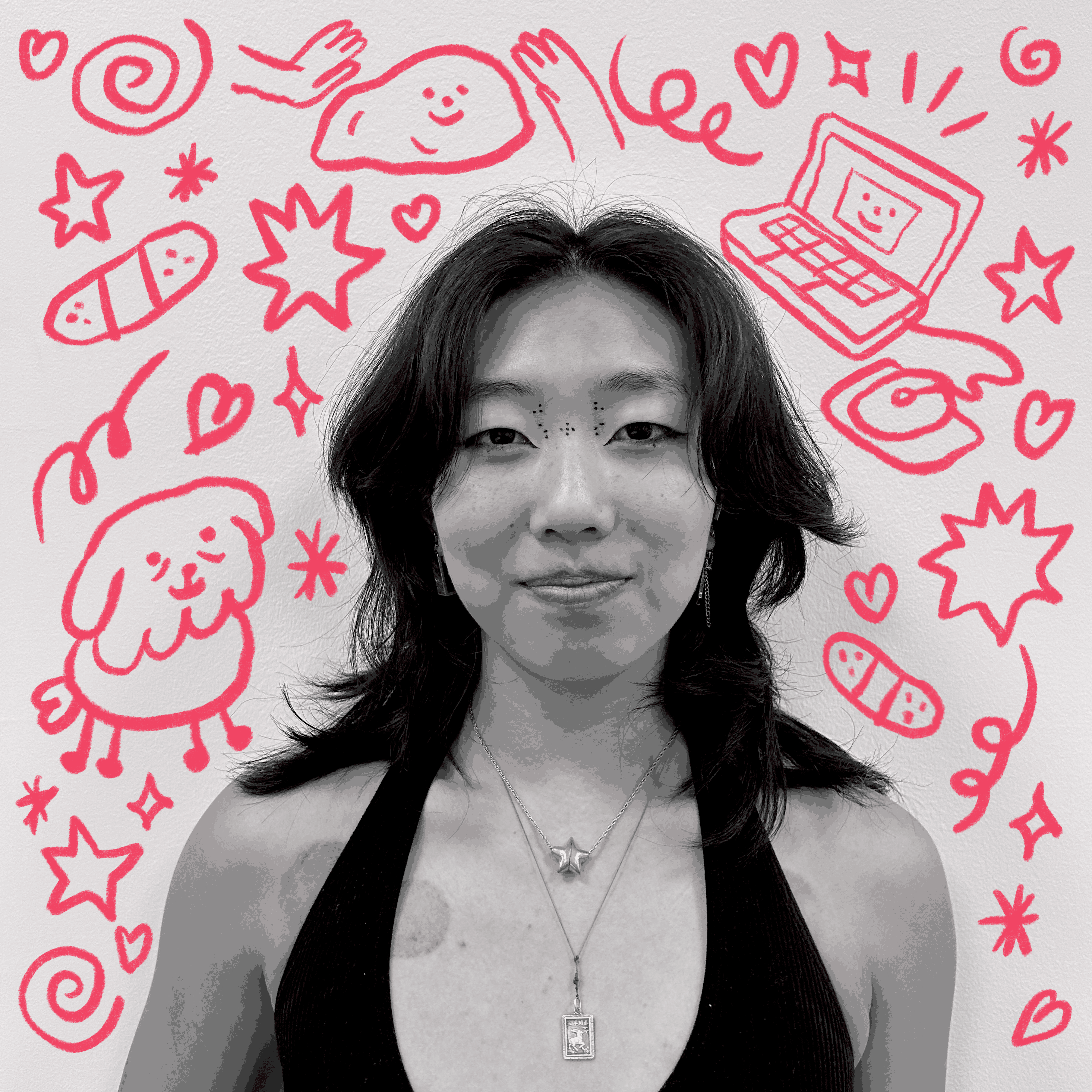 Katherine Fu
(he/they)
Editor/Event Planner
BFA CER 2025
As a child Katherine wanted to be the President; he's grateful the tides of ambition and frontal lobe development have led him instead to ceramics. Firmly raised by the Internet, they are seeking proof of how the digital world creeps into our physical lives. Ask him about creepypasta and prepare to be in for a long ride. Katherine relishes in the good pains of life whether that be the stretch of a sore muscle or a tearful see-you-later. They are grateful for the microcosmic trading economy that is college, for folktales and bedtime stories, and for elderly dogs. In their work and otherwise, what he cares most about is the ability to convey a narrative. At v.1 they hope to harness the collective energy of community to encourage the journeys of our contributors towards their own eclectic stories, big or small, truthful or not, onto the page and into the heart.
Kobe Jackson
(any pronouns)
Editor/Communications
MA GAC 2025
Kobe Jackson has a trans-disciplinary art practice and a complicated relationship with gender, likes painting from inside of parked cars and scavenger hunting. Jackson often paints still lifes with flowers as well as plein air and figures. Is experimenting with abstraction and surrealism and has worked as an artist, educator and community organizer, with many public projects including exhibitions at Brown University's Arts Institute, Dirt Palace and AS220. Jackson is curious about dance and set design, loves jamming and wants to be in a band. Has a small existential crisis every time when confronted with single-use plastic. Is intrigued by furniture with wheels, and is fascinated by the eels in the dark rivers of Providence. Has no problem drinking straight from the tap, but is afraid to drink from the fountain in front of the Athenaeum even after hearing that the water tastes sweet. This year at v.1 they are excited to slow down while capturing with speed.