History

Over the years v.1 has existed in multiple forms.v.1's story began as RISD's graduate studies publication; a compendium of thesis related writings. From there v.1 evolved into an elective at RISD and now is a student run publication open to all.
2019–2020
Edited by
Elizabeth Burmann
,
Tiger Dingsun
, Angela Lobel,
Irina V. Wang
,
Asher White
&
Ariel Wills
.
Irina V. Wang, Jackie Scott, Jen Liese, Ella Rosenblatt, Ariel Wills, Keavy Handley-Byrne, Cita Devlin, Hannah Oatman, Elaine Lopez, Elizabeth Burmann, Clarisse Angkasa, Hammad Abid, Tongji Philip Qian, Dan Luo, Maixx Culver-Hagins, Tristram Lansdowne, Marcus Peabody, Maria Alibereti Lubertazzi, Arielle Eisen,Charlott Isobel Dazan, Yan Diego Estralla Wilson, García Sinclair, Drew Dodge, Kathryn Li, Aleks Dawson, Yidan Wang, Jagdeep Raina, Woojin Kim, Ralph Davis, Hannah Moore, Dara Benno & Erica Silver
Asher White, Yuqing Liu, Ariel Wills, Jack Zhou, Ali Dipp, Chris Shen, Yiqun Zhou, Elena Foraker, Gina Vestuti & Reilly Blum
Xuan Liu, Jeff Katz, Ariel Wills, Tiger Dingsun, Brenda Rodriguez, Carol Demick, Ariel Wills, Ali Dipp, Michelle Dixon, Megan Solis & Asher White

Chantal Feitosa, Jeremy Wolin, Makoto Kumasaka, Nasser Alzayani, Elizabeth Dean Heremann, Ashere White, Wen Zhuang, Mays Albaik, Nora Mayere, Emily Wright, Urgency Lab, Irina V. Wang, Nafis White and Garcia Sinclair, Karen Schiff, Molly Hastings, Eli Backer, Nina Yuchi, Zola Anderson, Michael Brandes, Reilly Blum, Joss Liao, Sophie Chien, Barbara Stehle, Eliza Chen & Mohammed Nassem

Mays Albaik, Marcus Peabody, June Yoon, Anny Li, Yasi Alipour, Randy Kennedy, Irina V. Wang, Tigere Dingsun, Th
éïa Flynn, Wen Zhuang, Jeremy Wolin, Eliza Chen and Tiger Dingsun, Everett Epstein, Mike Fink, Angela Dufresne, Elaine Lopez, Olive B. Godlee & Satpreet Kahlon
2017–2018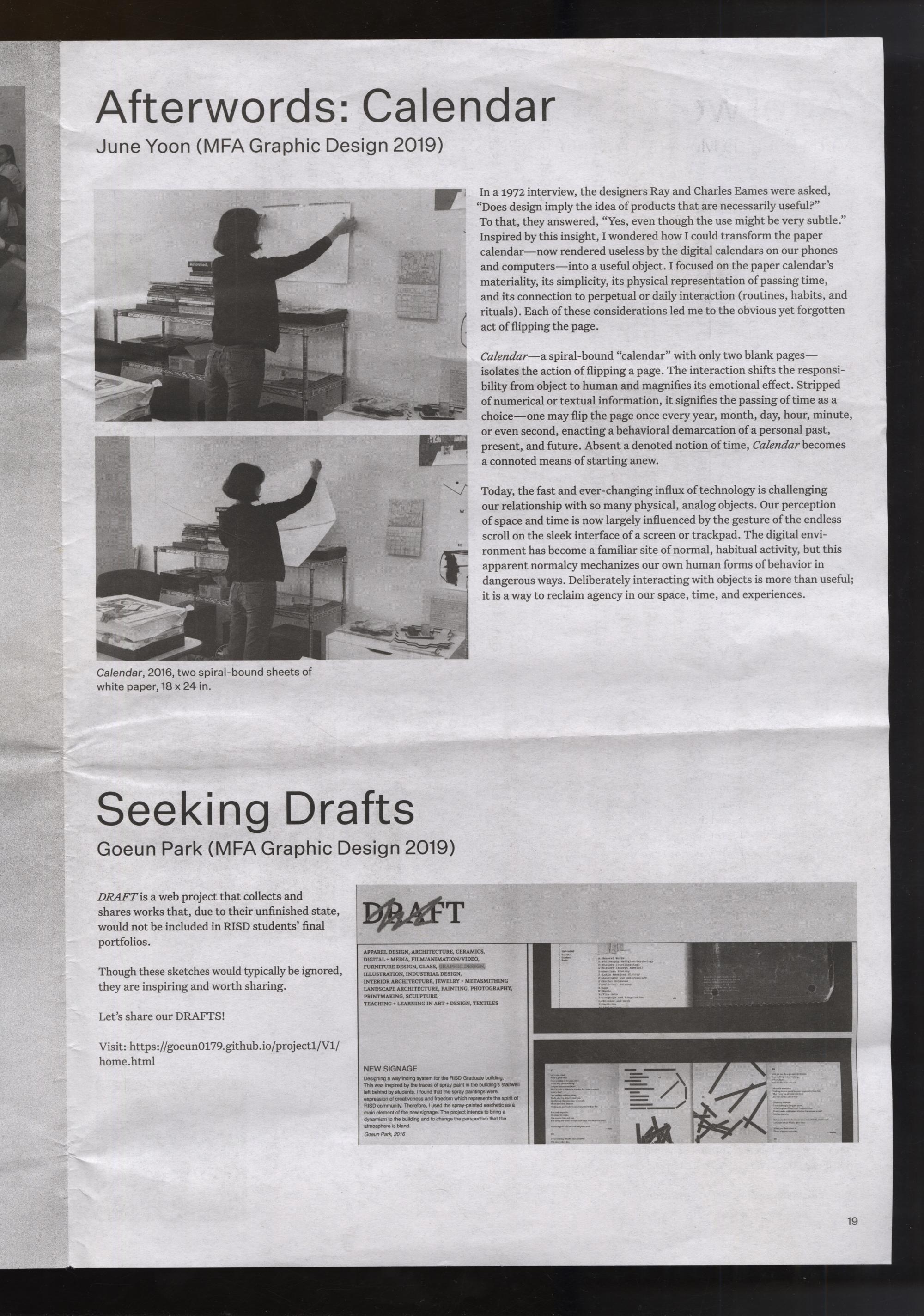 2017–2018 pieces by
Eury Kim, Cory Lund, Mays Albaik, Elaine Lopez, Modern Usage, Maggie Coblentz, Christina Schaller, Tatiana Gomez, Megan Tresca, Maria Eugenia Moya, Dylan Everett, June Yoon & Goeun Park
2016–2017
2016–2017 pieces by
Jagdeep Raina, Kelly Mitchell, García Sinclair, Anna Mcneary, Kate Sarrantinio, Nafis M. White, Farah Altaweel, Ellie Tomlinson, Sofía Ortiz, Nathan Young, Jeff Glendenning, Nathan Miller, Zoë Ritts, Victoria Deutch, Michael Ruffing, Drew LItowitz, Mudita Pasari, Bo-won Keum, Nathan Young, Christopher Cote, Yu Cao & Marcus Peabody
2015–2016
Edited by Jennifer Liese.
2015 pieces by
Alexander Stewart, Whitney Bosel, Drew Litowitz, Jack Yu, Jacob Kaichuan, Khanh Luu, Lauren Tedeschi, Kelly Walters, Dane Clark, Shou Jie Eng, Rami Hammour, Radha May, Elise Kirk, Tess Spalty, Jagdeep Raina, Christina Poblador, Aaron Tobey, Mairéad Byrne, Christina Webb, Minkyoung kim, Amanda Pickens & A Secret Admirer
2014–2015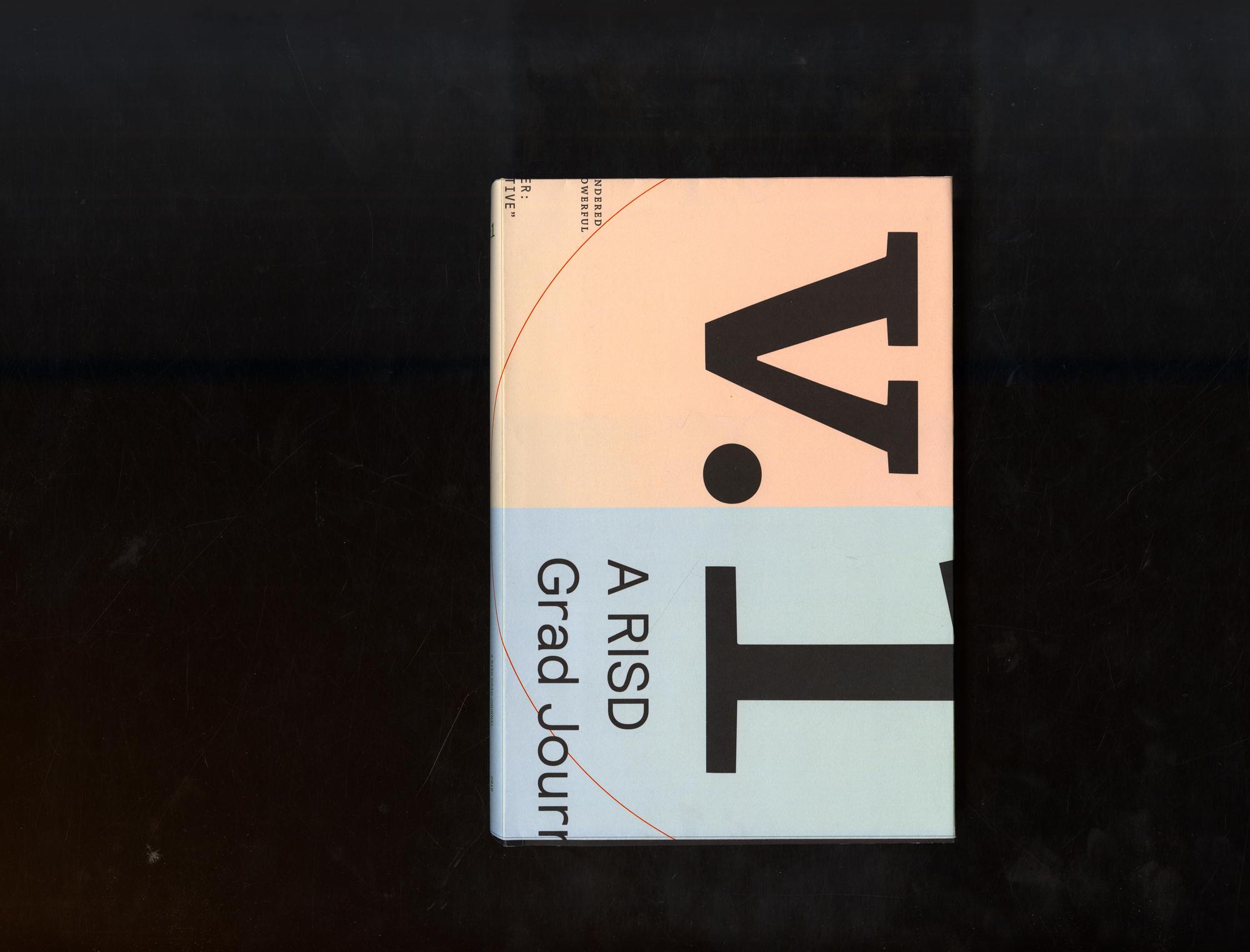 2014 pieces by
Ala Tannir, Emily Greego, Jillian Suzanne, Paul Rouphail, Jagdeep Raina, Diane Lee, Drew Litowitz, Edek Sher, Mary Yang, Tristram Lansdowne, Nick Missel, Thalassa Raasch, Maggie Jazen, Rosalind Breen, Chris Goodale, Lisa J. Malone, Feiyi Bie, Sakura Kelley, Daniel Morgan, Hannah Bigeleisen, Caleb Churchill, Melissa Weiss, Over the Transom, Emily Winter, Amanda Pickens, Henry F. Brown, Kenneth Fontaine, Julia Samuels, James Chae, Maggie Hazen, Anne West, Black Artists and Designers (BAAD) with student and faculty allies & Reya Sehgal