After Strand
Nafis White, García Sinclair (both BFA SC 2015 and MFA PR 2018), and collaborators
Nafis White, Nadia Wolff, and Desiree Scarborough performing

Strand

in the Grand Gallery, RISD Museum, March 30, 2019. Photographs by García Sinclair.
From March 29 to April 5, the RISD Museum's Grand Gallery—home to the Museum's grandest European paintings—was radically transformed at its core. That week, Nafis White and García Sinclair, collaborating with about a dozen artists, readers, and musicians, inhabited the space, weaving hair and rope into long, heavy strands punctuated by beads, cowries, and raw cotton. The performance/installation,

Strand, set out to create 400 feet of woven sculpture, one foot for each of the 400 years since the first Africans were enslaved in the United States. Every day, the lengths were stretched, looped, coiled, and piled into constantly shifting, multicolored landscapes. Every day, visitors witnessed the telling of stories that had been missing here. With

Strand

itself now missing and missed,

v.1

welcomed its creators' recollections and reflections.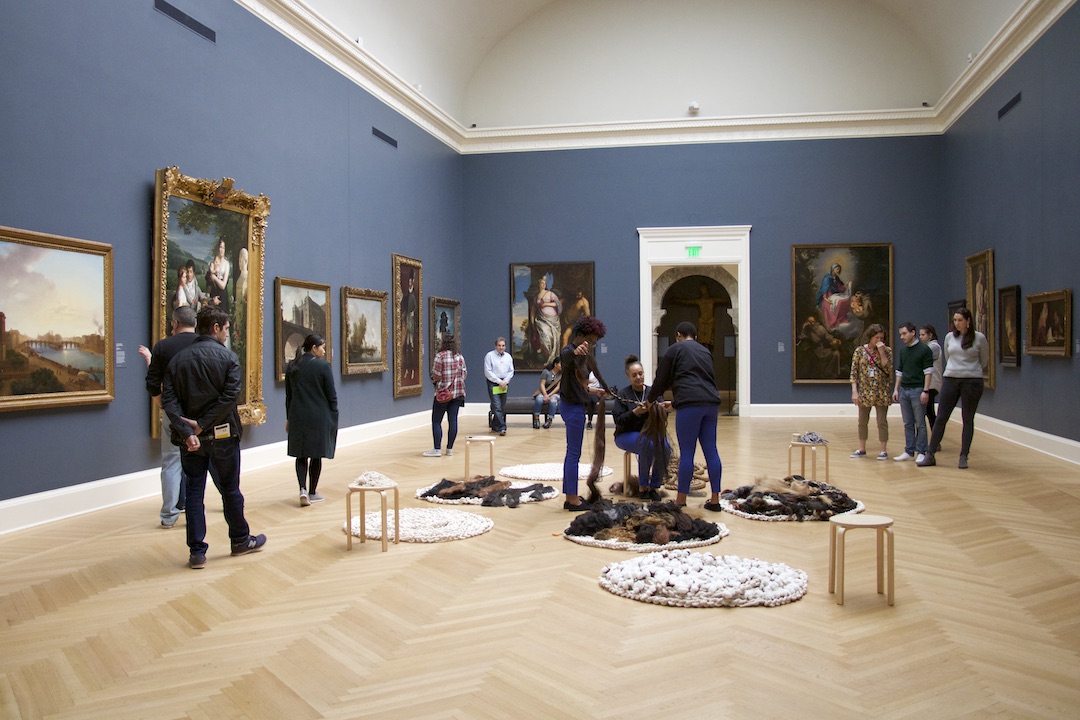 Nafis White

Our proposal for Strand was intricate and intentional in many ways. We knew we wanted to use hair, fiber, beads, and cotton to build the narrative, weaving thousands of feet of rope into sinnet structures. We knew that incorporating a Ghanaian drumming ensemble at the beginning would imbue the rope with intention and charge. Musicians and readers brought new voices and tempos to the space daily. We curated scores and texts based on the historical and contemporary parallels we wanted to weave into the work.

With so much structure and preparation, we also wanted Strand to be an organic and living work, so we built each day with no map. I worked with intuition, guiding the weavers and following the work's cues. I listened intently each day. The work shifted greatly from the morning to the afternoon. Each day was unique, building on what came before, shifting and stirring and resonating. This work was a total risk and surrender.

Kajette Solomon, Education Program Coordinator, RISD Museum

When I heard the drums playing in the galleries on the first day, I was moved. I was thinking about what life would be like if this were a part of my life, about how my ancestors spent their days working in their villages on their own terms—together—with the drums playing. Beats and rhythms. I swear I wanted to run my hands all over the ropes, just to feel a part of the movement. I teared up a bit. If only colonizers left us alone. Strand was powerful, and I'm so glad I was able to be a part of it as an active witness.

Nafis White

African and African American hair work and styling was the first pathway—using embodied knowledge, repetition, and care to create vast sculptural works. Then rope came into play. I thought about what type of knot would work as a conduit for the transference of energy and materials in Strand. It was important to have the knot work represent the gathering of community members, who would, through their hands, fortify the rope, the structure, making it impenetrable and strong. I chose the caterpillar sinnet knot for its structure and flexibility. Once tied, it increases its width three times, illuminating relationships and how community doesn't function as one line, one story. The sinnet evidences the human touch; depending on tension, its loops become larger or smaller based on the personal index of the hands of the weaver.

García Sinclair

In creating/collaging a sound score to accompany Strand, we wanted to occupy the spatial volume of the Grand Gallery, to make the entire room the site of our creative intervention. Sound as a medium could do that. Birdsong brought the sound of something familiar into an unfamiliar space. It also ignited the sense of looking upward, of visually trying to track the sound in the space and by default becoming aware of how tall the ceilings were, the quantity and quality of light coming through the skylight, and, we hoped, instilled curiosities and associations about gravity and flight. Conceptually, bringing the outside inside paralleled de-centering what has traditionally been centered in the space. It was a way to slow down the reading of the space so the audience might observe the changes in the gallery, think about who was present and who and what narratives were being given a voice in the center of the space where historically there had been no traces.

Jarrett Key (MFA PT 2020)

The spool of rope served as the perfect stool for this work. As I sat, the rope climbed between my legs with each knot tied. The repetitive gesture—hooking the sinnet, sliding it through the fibers—created a rhythm. I couldn't help but hum along to this new beat my body and this rope made. I closed my eyes, confident in the score I was creating. I swayed, I hummed, I tied these knots in a tightly knit personal performance. I opened my eyes. Jesus on the cross looked back at me. I had forgotten that I was in the Grand Gallery on the 5th floor of the RISD Museum. These knots, now puddled together as one braid at my feet, caught my body as I fell to the floor. My arms outstretched, I rested.

Nafis White

We knew that creating Strand would be an intense experience, and would call on the weavers, readers, and musicians to be present, to observe, listen, and respond. That labor is precious. We paid everyone in cash daily and negotiated with RISD Dining to provide nourishment for participants. We wanted to make sure that no one was hungry or without means, which is how a community looks after and cares for each other.

Sabrina Clark (BFA SC 2019)

At one point a man was taking photos. Usually I love to be photographed, but this felt different, this felt like it was my history, my culture, and only something that I or Nafis and I could give permission to outsiders to enter. I can be a pretty passive person, and never before have I been in a position to just physically not let someone take a photo of my face. I used my body to get up, move, and have my back facing the camera. I was not the work, I was just a vessel, a tool of the work, a fraction. It was amazing to feel agency. I don't feel that a lot, but I did that day.

García Sinclair

There were instances when the audience seemed extremely engaged with Strand. Stories and histories were being woven in the gallery, and many seemed curious, observant, and respectful. Unfortunately, not too surprisingly, some viewers physically walked into the space, asked to touch the materials, or demanded to have the elements and ideas explained. Some touched the cotton being woven into the piece, not even considering the artists, the work, or the space as not only sacred, but in essence, not theirs. There was also a fair amount of indifference, ignoring the weavers who were storytelling through their fingertips, ignoring this immense work in plain sight. To me, this indifference was violence.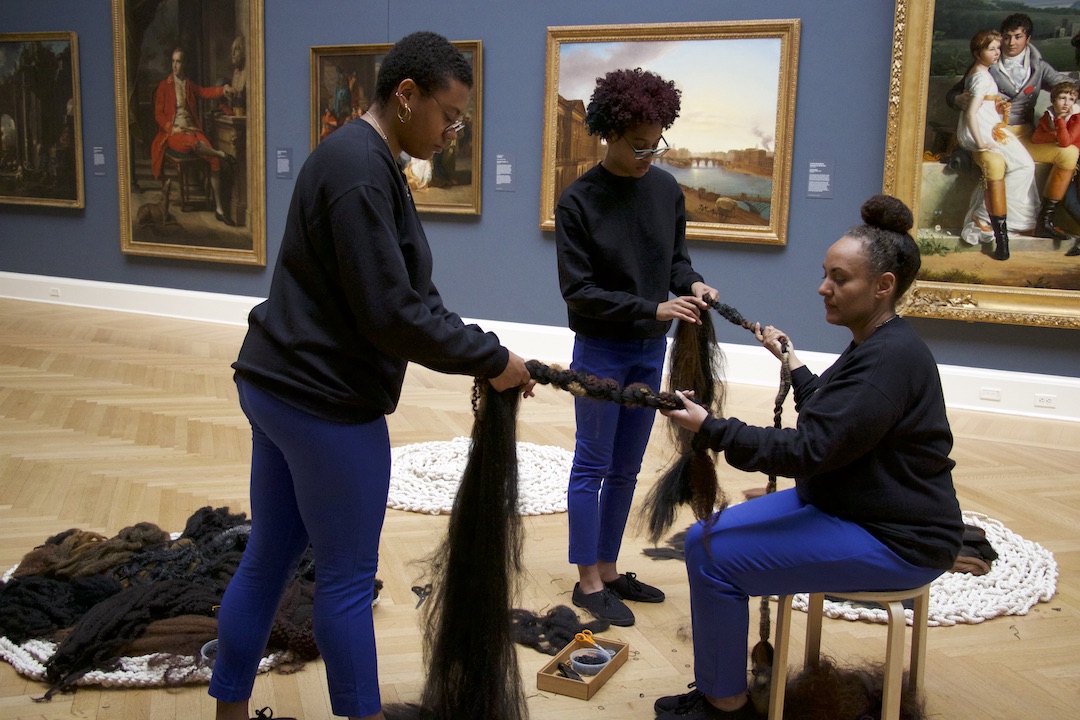 Nadia Wolff (BFA TX 2020)

I was tryna negotiate the temporariness of this/our particular installation, action, gesture in contrast with the fixity of the paintings in the space. We cannot totally understand that tension as a reissuing of hierarchies of value. I think the transitory nature of the piece reflects archives of embodied knowledge that blackness in particular has historically occupied. The black archive is not necessarily fixed in the way we understand Western archives—it lives in our making, doing, loving, speaking, and the ways that we tend to each other's bodies and spaces. All of that complexity was present in making Strand.

Nafis White

With Strand, we were in a unique position to challenge the institution through sustained, deliberate, determined, and loving intervention. Black bodies occupying space is a revolutionary act. Taking space through performance and labor, determination and defiance, the historic and contemporary, in song and in reading, in action and energy, we worked together to challenge power. We created a 400-foot ritual object that became homage and altar, incantation and eulogy, exaltation and heartbeat, linking the past with the present while looking toward the future.

Strand took us six days to build together, with one day to rest in situ. To de-install while the walls continued to celebrate a very selective history seemed strikingly at odds. I wish Strand stayed longer, but the Grand Gallery was needed for an event, with 100 table settings waiting to be set, for guests to entertain themselves over the labor of our bodies on stolen land. It reminds me of something James Baldwin once said, in "The Artist's Struggle for Integrity":

"You are in the position of someone on the edge of a field, and it's cold in the field and there's a house over there. And there's fire in the house and food and everything you need, everything you want. And you make all kinds of efforts to get into that house. And they will let you in. They will let you in, they're not being cruel. ... You get in, let's say for five minutes. And you can't stay."


Nafis White and García Sinclair are an art couple and collaborative whose practice engages love, queerness, identity, equality, community, memory, archive, aesthetics, and climate, both political and social.